This Is Where I Leave You
(R)
Tina Fey, Jason Bateman
- 1 hr. 43 mins.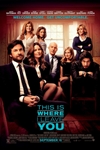 The Altman family doesn't get along, and they haven't all been together in years. But when the patriarch dies, the whole clan is expected to fulfill his final wish and sit Shiva for him for an entire week. Now newly divorced, newly jobless Judd Altman has to travel home to face his dysfunctional family, including his hot-to-trot psychiatrist mom, his sarcastic older brother, his unhappy sister and his too-perfect younger brother in an effort to see if family bonds will prevent them from killing one another.
Official Site
Trailer
---
Dolphin Tale 2
(PG)
Harry Connick, Jr, Morgan Freeman
- 1 hr. 47 mins.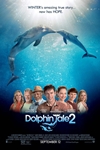 It has been several years since young Sawyer Nelson and the dedicated team at the Clearwater Marine Hospital, headed by Dr. Clay Haskett, rescued Winter. With the help of Dr. Cameron McCarthy, who developed a unique prosthetic tail for the injured dolphin, they were able to save her life.
Yet their fight is not over. Winter's surrogate mother has passed away, leaving Winter without the only poolmate she has ever known. However, the loss of Panama may have even greater repercussions for Winter, who, according to USDA regulations, cannot be housed alone, as dolphins' social behavior requires them to be paired with other dolphins. The team must find a companion for her before Clearwater loses their beloved Winter to another aquarium.
Official Site
Trailer
---
When the Game Stands Tall
(PG)
Jim Caviezel, Michael Chiklis
- 1 hr. 55 mins.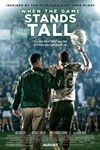 Inspired by a true story, WHEN THE GAME STANDS TALL brings to life the incredible winning streak of the De La Salle High School football team: 151 straight victories over 12 years. All along the way, as Coach Bob Ladouceur builds his seemingly invincible national powerhouse, he has emphasized purpose and significance rather than streaks and titles. But when real-life adversity leaves the team reeling, the Spartans must decide if the sacrifice, commitment, and teamwork they have always trusted in can rebuild what is now disintegrating around them
Official Site
Trailer
---
The Giver
(PG-13)
Jeff Bridges, Meryl Streep
- 1 hr. 31 mins.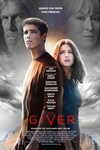 The haunting story of THE GIVER centers on Jonas, a young man who lives in a seemingly ideal, if colorless, world of conformity and contentment. Yet as he begins to spend time with The Giver, who is the sole keeper of all the community's memories, Jonas quickly begins to discover the dark and deadly truths of his community's secret past. With this newfound power of knowledge, he realizes that the stakes are higher than imagined - a matter of life and death for himself and those he loves most. At extreme odds, Jonas knows that he must escape their world to protect them all - a challenge that no one has ever succeeded at before.
Official Site
Trailer
---
Let's Be Cops
(R)
Damon Wayans Jr., Jake Johnson
- 1 hr. 44 mins.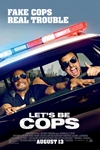 It's the ultimate buddy cop movie except for one thing: they're not cops. When two struggling pals dress as police officers for a costume party, they become neighborhood sensations. But when these newly-minted "heroes" get tangled in a real life web of mobsters and dirty detectives, they must put their fake badges on the line.
Official Site
Trailer
---
Teenage Mutant Ninja Turtles
(PG-13)
Megan Fox, William Fichtner
- 1 hr. 41 mins.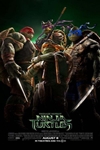 The city needs heroes. Darkness has settled over New York City as Shredder and his evil Foot Clan have an iron grip on everything from the police to the politicians. The future is grim until four unlikely outcast brothers rise from the sewers and discover their destiny as Teenage Mutant Ninja Turtles. The Turtles must work with fearless reporter April and her wise-cracking cameraman Vern Fenwick to save the city and unravel Shredder's diabolical plan.
Official Site
Trailer
---
Guardians of the Galaxy
(PG-13)
Chris Pratt, Zoe Saldana
- 2 hr. 2 mins.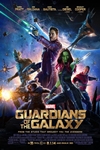 Brash adventurer Peter Quill finds himself the object of an unrelenting bounty hunt after stealing a mysterious orb coveted by Ronan, a powerful villain with ambitions that threaten the entire universe. To evade the ever-persistent Ronan, Quill is forced into an uneasy truce with a quartet of disparate misfits-Rocket, a gun-toting raccoon, Groot, a tree-like humanoid, the deadly and enigmatic Gamora and the revenge-driven Drax the Destroyer. But when Quill discovers the true power of the orb and the menace it poses to the cosmos, he must do his best to rally his ragtag rivals for a last, desperate stand-with the galaxy's fate in the balance.
Official Site
Trailer
---
How to Train Your Dragon 2
(PG)
Jay Baruchel, Gerard Butler
- 1 hr. 45 mins.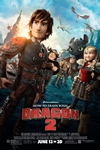 Set in the mythical world of burly Vikings and wild dragons, and based on the book by Cressida Cowell, the action comedy tells the story of Hiccup, a Viking teenager who doesn't exactly fit in with his tribe's longstanding tradition of heroic dragon slayers. Hiccup's world is turned upside down when he encounters a dragon that challenges him and his fellow Vikings to see the world from an entirely different point of view.
Official Site
Trailer
---
Maleficent
(PG)
Angelina Jolie, Elle Fanning
- 1 hr. 37 mins.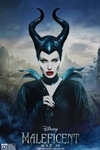 The untold story of Disney's most iconic villain from the 1959 classic "Sleeping Beauty." A beautiful, pure-hearted young woman with stunning black wings, Maleficent has an idyllic life growing up in a peaceable forest kingdom, until one day when an invading army of humans threatens the harmony of the land. Maleficent rises to be the land's fiercest protector, but she ultimately suffers a ruthless betrayal - an act that begins to turn her pure heart to stone. Bent on revenge, Maleficent faces an epic battle with the king of the humans and, as a result, places a curse upon his newborn infant Aurora. As the child grows, Maleficent realizes that Aurora holds the key to peace in the kingdom - and to Maleficent's true happiness as well.
Official Site
Trailer
---