San Andreas
(PG-13)
Dwayne Johnson, Carla Gugino
- 1 hr. 47 mins.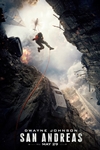 After the infamous San Andreas Fault finally gives, triggering a magnitude 9 earthquake in California, a search and rescue helicopter pilot and his estranged wife make their way together from Los Angeles to San Francisco to save their only daughter. But their treacherous journey north is only the beginning. And when they think the worst may be over...it's just getting started.
Official Site
Trailer
---
Tomorrowland
(PG)
George Clooney, Hugh Laurie
- 2 hr. 10 mins.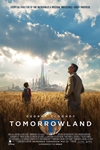 Bound by a shared destiny, former boy-genius Frank, jaded by disillusionment, and Casey, a bright, optimistic teen bursting with scientific curiosity, embark on a danger-filled mission to unearth the secrets of an enigmatic place somewhere in time and space known only as "Tomorrowland." What they must do there changes the world - and them - forever.
Official Site
Trailer
---
Mad Max: Fury Road
(R)
Charlize Theron, Tom Hardy
- 2 hr. 0 mins.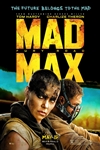 Haunted by his turbulent past, Mad Max believes the best way to survive is to wander alone. Nevertheless, he becomes swept up with a group fleeing across the Wasteland in a War Rig driven by an elite Imperator, Furiosa. They are escaping a Citadel tyrannized by the Immortan Joe, from whom something irreplaceable has been taken. Enraged, the Warlord marshals all his gangs and pursues the rebels ruthlessly in the high-octane Road War that follows.
Official Site
Trailer
---
Pitch Perfect 2
(PG-13)
Anna Kendrick, Rebel Wilson
- 1 hr. 55 mins.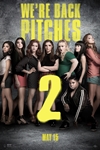 It's been three years since the Bellas brought their signature vocals, style and attitude to become the first all-female group to win a national title. But when they get banned after a scandal that threatens to derail their last year at Barden, the three-time defending champs worry that this time they've lost their harmony for good. With just one chance left at redeeming their legacy, the Bellas must fight for their right to win the World Championships of A Cappella in Copenhagen. And as they struggle to balance the pressures of musical domination with senior angst, it will take the power of sisterhood to find their voice and see what it takes to be the world's top pitches.
Official Site
Trailer
---
Avengers: Age of Ultron
(PG-13)
Robert Downey Jr., Chris Evans
- 2 hr. 21 mins.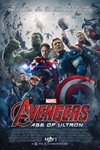 The epic follow-up to the biggest Super Hero movie of all time. When Tony Stark tries to jumpstart a dormant peacekeeping program, things go awry and Earth's Mightiest Heroes, including Iron Man, Captain America, Thor, The Incredible Hulk, Black Widow and Hawkeye, are put to the ultimate test as the fate of the planet hangs in the balance. As the villainous Ultron emerges, it is up to the Avengers to stop him from enacting his terrible plans, and soon uneasy alliances and unexpected action pave the way for an epic and unique global adventure.
Official Site
Trailer
---
Paul Blart: Mall Cop 2
(PG)
Kevin James, Raini Rodriguez
- 1 hr. 34 mins.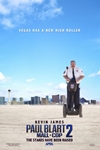 After six years of keeping our malls safe, Paul Blart has earned a well-deserved vacation. He heads to Vegas with his teenage daughter before she heads off to college. But safety never takes a holiday and when duty calls, Blart answers.
Official Site
Trailer
---
Woman in Gold
(PG-13)
Helen Mirren, Ryan Reynolds
- 1 hr. 50 mins.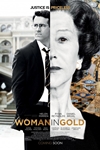 Sixty years after she fled Vienna during World War II, an elderly Jewish woman, Maria Altmann, starts her journey to retrieve family possessions seized by the Nazis, among them Klimt's famous painting 'The Lady in Gold'. Together with her inexperienced but plucky young lawyer Randy Schoenberg, she embarks upon a major battle which takes them all the way to the heart of the Austrian establishment and the U.S. Supreme Court, and forces her to confront difficult truths about the past along the way.
Official Site
Trailer
---
Home
(PG)
Jim Parsons, Rihanna
- 1 hr. 36 mins.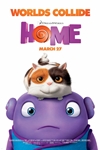 When Oh, a loveable misfit from another planet, lands on Earth and finds himself on the run from his own people, he forms an unlikely friendship with an adventurous girl named Tip who is on a quest of her own. Through a series of comic adventures with Tip, Oh comes to understand that being different and making mistakes is all part of being human. And while he changes her planet and she changes his world, they discover the true meaning of the word HOME.
Official Site
Trailer
---