The Man from U.N.C.L.E.
(PG-13)
Henry Cavill, Armie Hammer
- 1 hr. 56 mins.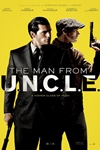 CIA agent Solo and KGB agent Kuryakin are forced to put aside longstanding hostilities and team up on a joint mission to stop a mysterious international criminal organization that is bent on destabilizing the fragile balance of power through the proliferation of nuclear weapons and technology. The duo's only lead is the daughter of a vanished German scientist, who is the key to infiltrating the criminal organization, and they must race against time to find him and prevent a worldwide catastrophe.
Official Site
Trailer
---
Fantastic Four
(PG-13)
Miles Teller, Michael B. Jordan
- 1 hr. 45 mins.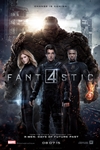 "The Fantastic Four", a contemporary re-imagining of Marvelšs original and longest-running superhero team, centers on four young outsiders who teleport to an alternate and dangerous universe, which alters their physical form in shocking ways. Their lives irrevocably upended, the team must learn to harness their daunting new abilities and work together to save Earth from a former friend turned enemy.
Official Site
Trailer
---
Pixels
(PG-13)
Adam Sandler, Kevin James
- 1 hr. 46 mins.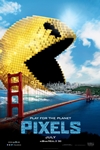 As kids in the 1980s, Sam Brenner, Will Cooper, Ludlow Lamonsoff, and Eddie "The Fire Blaster" Plant saved the world thousands of times - at 25 cents a game in the video arcades. Now, they're going to have to do it for real. When intergalactic aliens discover video feeds of classic arcade games and misinterpret them as a declaration of war, they attack the Earth, using the video games as the models for their assaults - and now-U.S. President Cooper must call on his old-school arcade friends to save the world from being destroyed by PAC-MAN, Donkey Kong, Galaga, Centipede, and Space Invaders. Joining them is Lt. Col. Violet Van Patten, a specialist supplying the arcaders with unique weapons to fight the aliens.
Official Site
Trailer
---
Southpaw
(R)
Jake Gyllenhaal, Rachel McAdams
- 2 hr. 3 mins.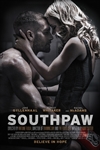 Billy Hope seemingly has it all with an impressive career, a beautiful and loving wife, an adorable daughter and a lavish lifestyle. When tragedy strikes and his lifelong manager and friend leaves him behind, Hope hits rock bottom and turns to an unlikely savior at a run-down local gym: Tick Willis, a retired fighter and trainer to the city's toughest amateur boxers. With his future riding on Tick's guidance and tenacity, Billy enters the hardest battle of his life as he struggles with redemption and to win back the trust of those he loves.
Official Site
Trailer
---
Ant-Man
(PG-13)
Paul Rudd, Evangeline Lilly
- 1 hr. 57 mins.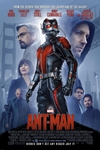 Armed with the astonishing ability to shrink in scale but increase in strength, con-man Scott Lang must embrace his inner-hero and help his mentor, Dr. Hank Pym, protect the secret behind his spectacular Ant-Man suit from a new generation of towering threats. Against seemingly insurmountable obstacles, Pym and Lang must plan and pull off a heist that will save the world.
Official Site
Trailer
---
Inside Out
(PG)
Amy Poehler, Mindy Kaling
- 1 hr. 42 mins.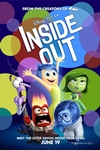 Growing up can be a bumpy road, and it's no exception for Riley, who is uprooted from her Midwest life when her father starts a new job in San Francisco. Like all of us, Riley is guided by her emotions - Joy, Fear, Anger, Disgust and Sadness. The emotions live in Headquarters, the control center inside Riley's mind, where they help advise her through everyday life. As Riley and her emotions struggle to adjust to a new life in San Francisco, turmoil ensues in Headquarters. Although Joy, Riley's main and most important emotion, tries to keep things positive, the emotions conflict on how best to navigate a new city, house and school.
Official Site
Trailer
---
Jurassic World
(PG-13)
Chris Pratt, Bryce Dallas Howard
- 2 hr. 4 mins.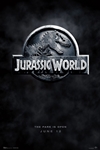 Steven Spielberg returns to executive produce the long-awaited next installment of his groundbreaking Jurassic Park series, Jurassic World. Colin Trevorrow directs the epic action-adventure based on characters created by Michael Crichton. The screenplay is by Rick Jaffa & Amanda Silver and Derek Connolly & Trevorrow, and the story is by Rick Jaffa & Amanda Silver. Frank Marshall and Patrick Crowley join the team as producers.
Official Site
Trailer
---
Spy
(R)
Melissa McCarthy, Jason Statham
- 2 hr. 0 mins.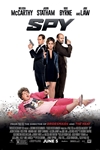 Susan Cooper is an unassuming, deskbound CIA analyst, and the unsung hero behind the Agency's most dangerous missions. But when her partner falls off the grid and another top agent is compromised, she volunteers to go deep undercover to infiltrate the world of a deadly arms dealer, and prevent a global disaster.
Official Site
Trailer
---