The Best of Me
(PG-13)
Michelle Monaghan, James Marsden
- 1 hr. 58 mins.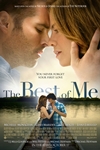 The story of Dawson and Amanda, two former high school sweethearts who find themselves reunited after 20 years apart, when they return to their small town for the funeral of the beloved friend. Their bittersweet reunion reignites the love they've never forgotten, but soon they discover the forces that drove them apart twenty years ago live on, posing even more serious threats today. Spanning decades, this epic love story captures the enduring power of our first true love, and the wrenching choices we face when confronted with elusive second chances.
Official Site
Trailer
---
The Book of Life
(PG)
Diego Luna, Channing Tatum
- 1 hr. 35 mins.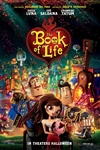 This film is a vibrant fantasy-adventure, tells the legend of Manolo, a conflicted hero and dreamer who sets off on an epic quest through magical, mythical and wondrous worlds in order to rescue his one true love and defend his village.
Official Site
Trailer
---
Alexander and the Terrible, Horrible, No Good, Very Bad Day
(PG)
Steve Carell, Jennifer Garner
- 1 hr. 20 mins.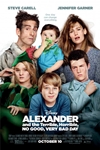 Follows the exploits of 11-year-old Alexander as he experiences the most terrible and horrible day of his young life-a day that begins with gum stuck in his hair, followed by one calamity after another. But when Alexander tells his upbeat family about the misadventures of his disastrous day, he finds little sympathy and begins to wonder if bad things only happen to him. He soon learns that he's not alone when his brother, sister, mom and dad all find themselves living through their own terrible, horrible, no good, very bad day. Anyone who says there is no such thing as a bad day just hasn't had one.
Official Site
Trailer
---
The Judge
(R)
Vera Farmiga, Robert Downey Jr.
- 2 hr. 21 mins.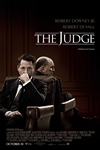 A successful lawyer returns to his hometown for his mother's funeral only to discover that his estranged father, the town's judge, is suspected of murder. He sets out to discover the truth and along the way reconnects with the family he walked away from years before.
Official Site
Trailer
---
The Boxtrolls
(PG)
Ben Kingsley, Toni Collette
- 1 hr. 40 mins.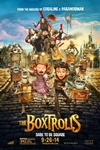 The Boxtrolls, a community of quirky, mischievous creatures, have lovingly raised an orphaned human boy named Eggs in the amazing cavernous home they've built beneath the streets of Cheesebridge. When the town's villain, Archibald Snatcher, comes up with a plot to get rid of the Boxtrolls, Eggs decides to venture above ground, "into the light," where he meets and teams up with fabulously feisty Winnifred. Together, they devise a daring plan to save Eggs' family.
Official Site
Trailer
---
The Maze Runner
(PG-13)
Dylan O'Brien, Kaya Scodelario
- 1 hr. 53 mins.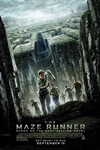 When Thomas wakes up trapped in a massive maze with a group of other boys, he has no memory of the outside world other than strange dreams about a mysterious organization known as W.C.K.D. Only by piecing together fragments of his past with clues he discovers in the maze can Thomas hope to uncover his true purpose and a way to escape.
Official Site
Trailer
---
Dolphin Tale 2
(PG)
Harry Connick, Jr, Morgan Freeman
- 1 hr. 47 mins.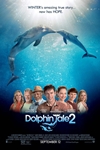 It has been several years since young Sawyer Nelson and the dedicated team at the Clearwater Marine Hospital, headed by Dr. Clay Haskett, rescued Winter. With the help of Dr. Cameron McCarthy, who developed a unique prosthetic tail for the injured dolphin, they were able to save her life.
Yet their fight is not over. Winter's surrogate mother has passed away, leaving Winter without the only poolmate she has ever known. However, the loss of Panama may have even greater repercussions for Winter, who, according to USDA regulations, cannot be housed alone, as dolphins' social behavior requires them to be paired with other dolphins. The team must find a companion for her before Clearwater loses their beloved Winter to another aquarium.
Official Site
Trailer
---
The Hundred-Foot Journey
(PG)
Helen Mirren, Manish Dayal
- 1 hr. 57 mins.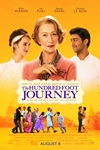 Hassan Kadam is a culinary ingénue with the gastronomic equivalent of perfect pitch. When Hassan and his family, led by Papa, move to a quaint village in the South of France with the grand plan of opening an Indian restaurant in the picturesque countryside, they are undeterred by the fact that only 100 feet opposite stands a Michelin starred classical French eatery. However upon encountering the icy proprietress, Madame Mallory, the Kadam family realise they may have bitten off more than they can chew. Outraged by the new arrivals, Madame Mallory is determined to have their business shut down. As cultures clash and food flies, an all-out war escalates between the two establishments -- until, that is, Hassan's passion and talent for French cuisine begin to enchant Madame Mallory and even she can't deny this young chef could have what it takes to garner even more acclaim for her beloved restaurant. This, along with his new-found friendship with her beautiful sous chef Marguerite, starts to weave a magic between the two cultures and, despite their different tastes, they discover an unlikely recipe for success that surprises them all.
Official Site
Trailer
---
Guardians of the Galaxy
(PG-13)
Chris Pratt, Zoe Saldana
- 2 hr. 2 mins.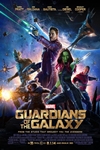 Brash adventurer Peter Quill finds himself the object of an unrelenting bounty hunt after stealing a mysterious orb coveted by Ronan, a powerful villain with ambitions that threaten the entire universe. To evade the ever-persistent Ronan, Quill is forced into an uneasy truce with a quartet of disparate misfits-Rocket, a gun-toting raccoon, Groot, a tree-like humanoid, the deadly and enigmatic Gamora and the revenge-driven Drax the Destroyer. But when Quill discovers the true power of the orb and the menace it poses to the cosmos, he must do his best to rally his ragtag rivals for a last, desperate stand-with the galaxy's fate in the balance.
Official Site
Trailer
---