Cinderella
(PG)
Cate Blanchett, Lily James
- 1 hr. 52 mins.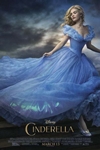 The story follows the fortunes of young Ella whose merchant father remarries following the tragic death of her mother. Keen to support her loving father, Ella welcomes her new stepmother Lady Tremaine and her daughters Anastasia and Drizella into the family home. But when Ella's father suddenly and unexpectedly passes away, she finds herself at the mercy of a jealous and cruel new family. Ella could easily begin to lose hope. Yet, despite the cruelty inflicted upon her, Ella is determined to honor her mother's dying words and to "have courage and be kind." And then there is the dashing stranger she meets in the woods. Unaware that he is really a prince, not merely an employee at the palace, Ella finally feels she has met a kindred soul.
Official Site
Trailer
---
The Second Best Exotic Marigold Hotel
(PG)
Judi Dench, Maggie Smith
- 2 hr. 2 mins.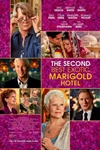 The Second Best Exotic Marigold Hotel is the expansionist dream of Sonny, and it's making more claims on his time than he has available, considering his imminent marriage to the love of his life, Sunaina. Sonny has his eye on a promising property now that his first venture, The Best Exotic Marigold Hotel for the Elderly and Beautiful, has only a single remaining vacancy-posing a rooming predicament for fresh arrivals Guy and Lavinia. Evelyn and Douglas have now joined the Jaipur workforce, and are wondering where their regular dates for Chilla pancakes will lead, while Norman and Carol are negotiating the tricky waters of an exclusive relationship, as Madge juggles two eligible and very wealthy suitors. Perhaps the only one who may know the answers is newly installed co-manager of the hotel, Muriel, the keeper of everyone's secrets. As the demands of a traditional Indian wedding threaten to engulf them all, an unexpected way forward presents itself.
Official Site
Trailer
---
Focus
(R)
Will Smith, Margot Robbie
- 1 hr. 44 mins.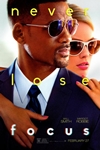 Nicky, a seasoned master of misdirection, becomes romantically involved with novice con artist Jess. As he's teaching her the tricks of the trade, she gets too close for comfort and he abruptly breaks it off. Three years later, the former flame-now an accomplished femme fatale-shows up in Buenos Aires in the middle of the high stakes racecar circuit. In the midst of Nicky's latest, very dangerous scheme, she throws his plans for a loop...and the consummate con man off his game.
Official Site
Trailer
---
McFarland, USA
(PG)
Kevin Costner, Ramiro Rodriguez
- 2 hr. 8 mins.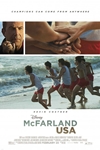 A track coach in a small California town transforms a team of athletes into championship contenders.
Official Site
Trailer
---
Kingsman: The Secret Service
(R)
Colin Firth, Michael Caine
- 2 hr. 9 mins.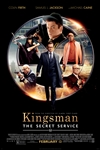 Based upon the acclaimed comic book, Kingsman: The Secret Service tells the story of a super-secret spy organization that recruits an unrefined but promising street kid into the agency's ultra-competitive training program just as a global threat emerges from a twisted tech genius.
Official Site
Trailer
---
The SpongeBob Movie: Sponge Out of Water
(PG)
Clancy Brown, Tom Kenny
- 1 hr. 33 mins.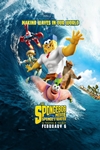 SpongeBob goes on a quest to discover a stolen recipe that takes him to our dimension, our world, where he tangles with a pirate.
Official Site
Trailer
---
American Sniper
(R)
Bradley Cooper, Sienna Miller
- 2 hr. 14 mins.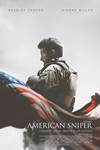 U.S. Navy SEAL Chris Kyle is sent to Iraq with only one mission: to protect his brothers-in-arms. His pinpoint accuracy and courageous exploits earn him the nickname "Legend." However, his reputation is also growing behind enemy lines, putting a price on his head and making him a prime target of insurgents. He is also facing a different kind of battle on the home front: striving to be a good husband and father from halfway around the world. Despite the danger, as well as the toll on his family, Chris serves through four harrowing tours of duty in Iraq, personifying the spirit of the SEAL creed to "leave no one behind". But upon returning to his family, Chris finds that it is the war he can't leave behind.
Official Site
Trailer
---
Paddington
(PG)
Ben Whishaw, Nicole Kidman
- 1 hr. 35 mins.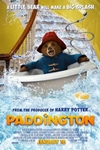 This film tells the story of the comic misadventures of a young Peruvian bear who travels to the city in search of a home. Finding himself lost and alone, he begins to realize that city life is not all he had imagined - until he meets the kindly Brown family who read the label around his neck that says "Please look after this bear. Thank you," and offer him a temporary haven. It looks as though his luck has changed until this rarest of bears catches the eye of a museum taxidermist.
Official Site
Trailer
---